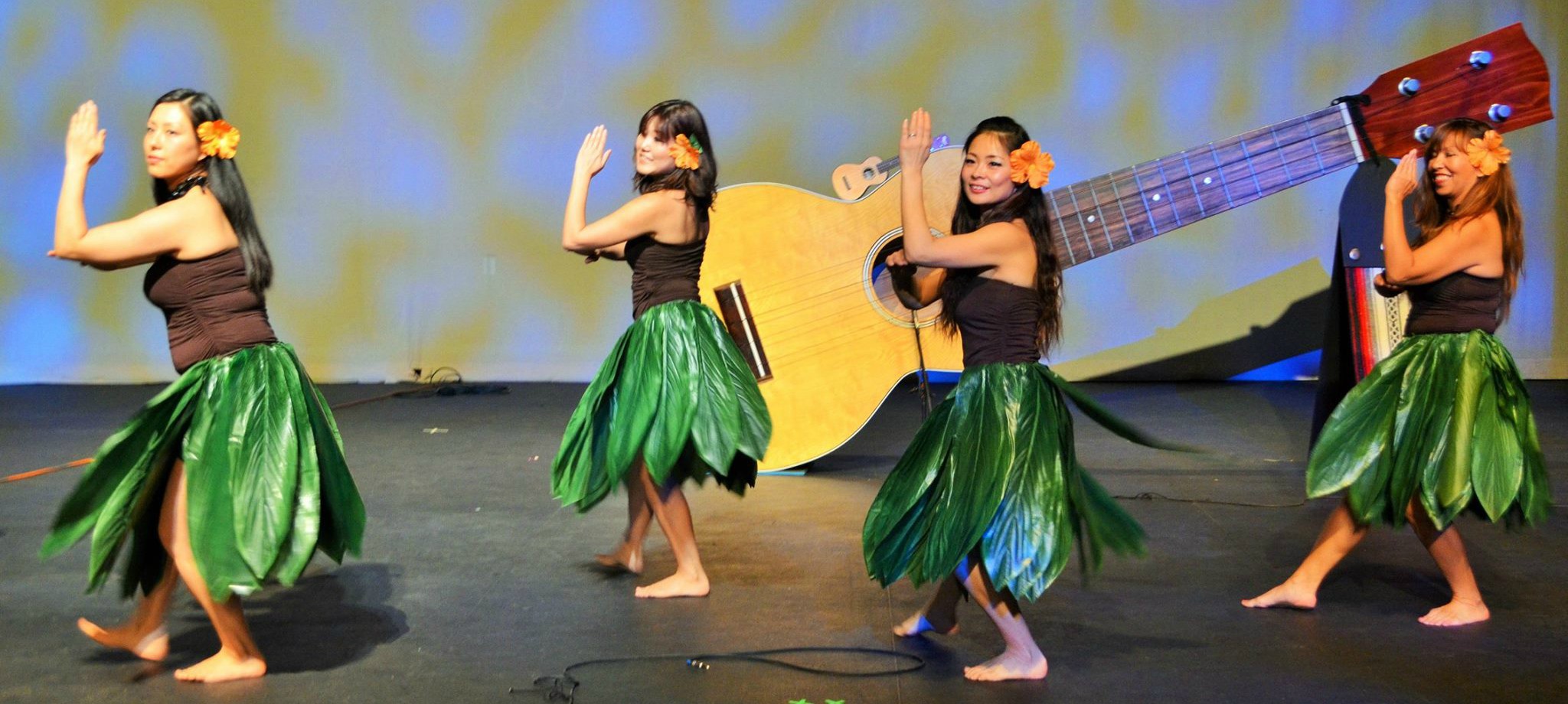 Mighty Uke Day 6 Wrap-Up
Sunday, May 22, 2016
It hailed and even snowed a bit, but nothing could stop the good times we had at Mighty Uke Day 6, May 13 – 15 in Old Town Lansing! Here are some reflections on the weekend . . .
Each year, we try to do things that are fun and different. We repeated the Bus Flash Mob that was such a hit last year, packing the Okemos-Lansing CATA bus with at least 30 ukers and singing "Take Me Out to the Ballgame" with some Michigan State University college kids heading into town to see the Lansing Lugnuts play. We also held a Flash Mob at noon on Friday the 13th (!) in Downtown Lansing that attracted a variety of passers-by as well as a local TV station. Larry Stump was back with his 13' ukulele and it made a beautiful backdrop for our evening concerts at Dart Auditorium.
This year was the first where we had an artist fly in from Hawaii. The young island sensation, Kalei Gamiao wowed everyone Saturday evening with his technical skills and soulful playing and charmed festival-goers with his laid-back aloha spirit. He was featured in our Sunday acoustic concert as well, playing a set of traditional Hawaiian music with Chris Kamaka and Asa Young, and stopped in a local elementary school Monday morning and had the rapt attention of the 4 – 6th graders playing everything from hip-hop to "The Super Mario Brothers Theme". His workshops were packed and well-received.
Speaking of Chris Kamaka, what an honor it was to have him come to Mighty Uke Day to celebrate the 100th birthday of the venerable company his grandfather founded! He stopped in and checked out the music at various locations Saturday, gave a well-attended talk about Kamaka at Elderly Instruments, and played bass with Kalei Saturday night and Sunday. What a beautiful voice he has, he and his former bandmate Asa sang beautifully together at the concerts.
Saturday night also featured the return of Detroit's Ryan Rodriguez to the stage, what a pleasure it is to have him back. Local favorites, The Ukulele Kings, played a tight set of originals, and the Hoaloha Polynesian Dance Group graced the stage with elegant hula.
Friday featured the hot Django-style jazz of Kansas City's Victor & Penny and the Loose Change Orchestra. The interplay between Jeff's (Victor) guitar and James' soprano sax was energetic and tight and Erin's (Penny) uke held down the rhythm with Rick's bass. Kalamazoo ukulele chanteuse, Megan Dooley, opened the show with torchy powerful vocals and Haslett's Marlowe had a triumphant homecoming with a set of scorching ukulele instrumentals.
Along with our headlining acts, we had a variety of great music at our Featured Performer and Open Mic stages. Some of you are seasoned performers and some were playing in front of an audience for the first time, thank you so much for sharing your talents and tunes with all of us. Special treats demonstrating the broad scope of the ukulele demographic were the young students from the Sigh Studio of Music in Lansing and the PT Strummers Senior Group from East Lansing's Prime Time Senior Center.
We had a lot of help in putting MUD 6 together and I know I'm going to forget someone, but I'd like to try and give thanks to everyone who made the weekend so special.
A huge thanks to our media sponsor, WLNZ Radio 89.7 from Lansing Community College. Their participation allowed us to have access to Dart Auditorium for our evening concerts, by far the nicest venue we've used yet.
LeRoy Harvey, Pat Malloy, and Jeff Krebs were a big help running sound at our Featured Performer Stage. Chuck Deyo did his always exceptional job organizing the open mic and enlisted the help of the always-charming Cindy McElroy as emcee. Jeff (aka Papa Crow), also put on a great kids concert and workshop and Fawn and Nick Kopas chipped in to entertain the young ones with a "Lava" puppet show.
Sponsors old and new donated instruments and other items for our silent auction along with other contributions. I'm still sorting out the finances but it looks like we raised close to $10,000 to go towards our Music is the Foundation school and community music programs. Thanks to Interlochen Center for the Arts for the Children's and Beginning workshops, Dave's Ukes for their sponsorship of the Featured Performer Stage,  GHS Strings for their sponsorship of the Ukulele Care workshop, and Rhea Van Atta and the Old Town General Store for sponsoring our performer and volunteer Green Rooms. Silent auction instrument donations were provided by Elderly Instruments, Kala Brand Instruments, Ohana Ukulele, Mainland Ukes, and Dave's Ukes. And, and a big thank you to our VIP ticket-holders who gave a little extra to help the cause.
Other friends of MUD 6 include: MICA Gallery, Capital City Reprographics, Mother and Earth Baby Boutique, Absolute Gallery, Old Town Commercial Association, Red Cedar Friends Meeting House, Tiny Goat Films (who started it all with the "Mighty Uke" documentary), Urban Beat Events Center, and our "home away from home" Sir Pizza.
Mighty Uke Day has strong supporters in the local press including Anne Erickson from the Lansing State Journal, Rich Tupica from the City Pulse, Karen Love and Jack Robbins from WLNZs "Coffee Break", Melissa Kaplan from "So Much More", and Mark Bashore and Scott Pohl from the WKAR "Current State" program – thanks for helping us get the word out. Thanks also to WLNS TV Channel 6 for their coverage of our Flash Mob and Kelsey Pence for her Love Lansing podcast with Marlowe and me.
We couldn't have put this all together without our volunteers, stationed at the workshops, various stages, MUD HQ, and other areas. Thanks for donating your precious weekend time, I hope you had some fun during and outside of your shifts.
Our MUD committee was a big help in making this year's festival work. Thank you to Jon Benallack for his graphic arts skills, management at Dart Auditorium, and for making our new banners with Cindy McElroy; Steve Szilagyi for proofreading our communications with the press and being our "designated bass player"; Chuck Deyo for organizing the open mic and doing whatever else needed to be done; Larry Cooley for his financial guidance and workshop organization; John French for setting up video streams at the open mic and featured performer stage; Lisa VanCuren for setting up the "Occupy Ukulele" tent city; Sara Wagner for lining up the volunteers and running the merch table; and Stan Werbin for helping get the word out via the Elderly email list.
And, of course, we couldn't have a festival without the attendees. There's nothing better than seeing a few hundred people packing Sir Pizza and Dart Auditorium, walking around Old Town, jamming, and just having a great time overall. It seems like everywhere I went, I heard ukulele strumming!
We try our best to make Mighty Uke Day a little better every year, we need and value your input. Please take a couple of minutes to fill out our post-festival survey, we listen to your feedback and incorporate into future festivals what we can.
Visit our Mighty Uke Day home page for links to photos and video from the weekend, it's always being updated so keep checking back. Also, please "like" our new Facebook page. It has all the latest info and interactions and will be replacing the old Mighty Uke Day Facebook group.
Make sure to mark your calendars for May 12 – 14, 2016 for Mighty Uke Day 7. It's going to be more of the same fun, music, and community; we'd love to see you there.