CLICK ON THE LOGO BELOW FOR TICKETS TO OUR MUD7 FUNDRAISER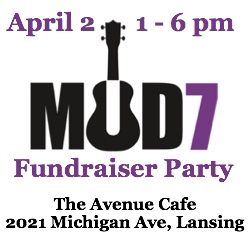 CLICK HERE FOR OUR COMPLETE PRINTABLE FESTIVAL SCHEDULE (subject to change)
Here's where you can find info on CONCERT and WORKSHOPS and to BUY TICKETS. To stay in touch regarding late-breaking news and developments, join our Facebook group, and/or sign up on our mailing list.
FRIDAY FLASH MOB SONGS

(Available in April)


SATURDAY MORNING STRUM SONGS

(Available in April)
General Schedule
Friday, May 12
Noon flash mob at the NE corner of Washington and Michigan Avenues in Downtown Lansing; workshops; group strum; free preview concert with The Fabulous Heftones; evening "Women of the Great Uke State" concert with Rachael Davis, Julianna Wilson, Marlowe, and Olivia Millerschin; after-concert strum
Saturday, May 13
Morning strum; workshops; open mic; children's activities; Featured Performer stage; afternoon strum; evening concert with Heidi Swedberg & Daniel Ward, Gerald Ross & Frank Youngman, and The Ukulele Kings; after-concert strum
Sunday, May 15
"Uke"-charist, afternoon acoustic concert with Heidi Swedberg and Daniel Ward.
Order Your Tickets for Concerts and Workshops using the form below or click here.
Workshop descriptions here.
(Use coupon code WKSHP10 if signing up for three or more paid workshops.)